Is learning piano as an adult harder?
No! Anyone can do it. Whether you're 9 or 99, you can make progress and have fun as long as you set aside some time to practice. So, if you want to learn to play piano, don't let your age stop you!
How long does it take to learn piano?
It doesn't take long to start playing music that you care about!
If you want to learn to play piano, chances are there's a song or piece of music that you love, and you want to know how to play it, or at least a part of it. You can start exploring that music from your first day of practice. Like anything in life, the more you put into it, the more you'll get out of it, but making music, expressing yourself, and finding joy with the piano can happen right away, even on day one.
For some recommendations of songs to get you started, see our list of must-learn piano songs for beginners.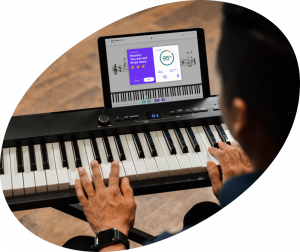 Try the Playground Sessions app
Free 30-day trial
Join the 100,000+ people learning piano with us!
iPhone • iPad • Mac • Windows
Can I learn piano by myself?
Yes! If you want to try learning on your own, you may want to consider a piano learning app. For example, Playground Sessions integrates video lessons, real-time feedback, and gaming elements to help you learn the music you love. It's affordable and flexible. Even if you decide that you'd prefer to learn from a piano teacher, it may be worth supplementing your lessons with an app like this.
Can I learn to play piano on a keyboard?
Yes! Choosing a digital keyboard to learn piano makes a lot of sense, for the reasons we discuss in our chapter titled: Keyboard vs. Piano: Choosing What's Best For You.
It's true that an acoustic piano sounds and feels different from a keyboard, but this isn't so important if you're just starting out. Digital keyboards are generally much more affordable and convenient than acoustic pianos, and an excellent option if you're looking to save yourself space, money, and a logistical headache.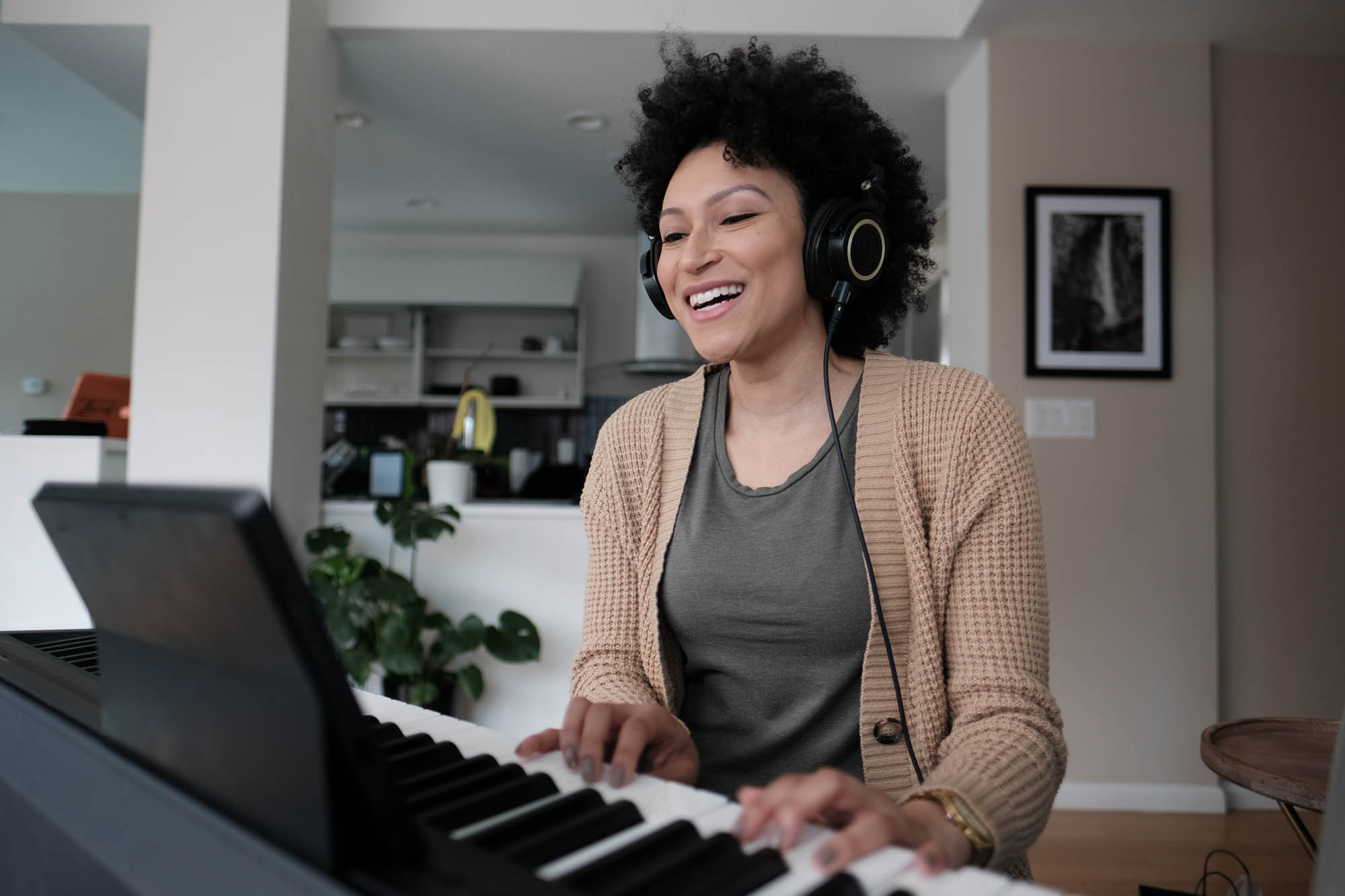 What is the best way to learn a new piano piece?
The best way is to mix up practice techniques. When you're at the keyboard, it can be helpful to break the music down into chunks, to slow it down, and to play one hand at a time. You can also try singing the piece, imagining how it sounds in your head, playing along with a recording, or just reading along with the sheet music as you listen to it. The more you internalize the piece, the easier it will be to figure out how to play it. Given how many different ways there are to practice, it's important to set a clear intention for each practice session, and to have some longer-term goals.
For more tips, check out our chapter on how to practice piano for beginners.
What if I don't have enough time to practice?
We hear this one a lot. We'll ask you this: how much time do you really have?
It may be that you do have the time, but instead of practicing piano (the thing you care about), you're doing something else that's less meaningful for you. In that case, it's important to reflect on what's keeping you from using your time effectively. The lack of a schedule or a clear, motivating goal may be holding you back.
It's also possible that you really don't have the time because of other important commitments. Don't feel bad if you only have a few minutes to practice a few times a week! In this case, the best thing to do is set modest goals and give yourself credit for whatever practice you're able to do. Everything counts.
Remember that there's no ideal amount of practice time, but that it's important to set goals that are proportional to the time you have. Finally, don't forget to enjoy whatever practice you're doing! Beginning piano and being involved with music in general should relieve stress, not add to it.
Do I need to know how to read sheet music?
No! You can play the piano without reading sheet music at all. Some famous musicians can't read music.
Still, reading music is a useful and valuable skill. Even by learning to read notation just a little, you'll find that it's easier to learn songs, recognize musical patterns, and play along with other musicians.
See our chapter, How to Read Sheet Music, for a short, clear, and fun introduction to music notation.
Where can I buy a piano or keyboard?
You may want to visit your local music store to try out some pianos or keyboards in person. Once you have a sense of what you want, you may want to look online to get a feel for the pricing.
See our chapter, Keyboard vs. Piano: Choosing What's Right For You, for some more advice on this topic.
Thanks for reading our guide, How to Play Piano for Beginners. Happy playing!